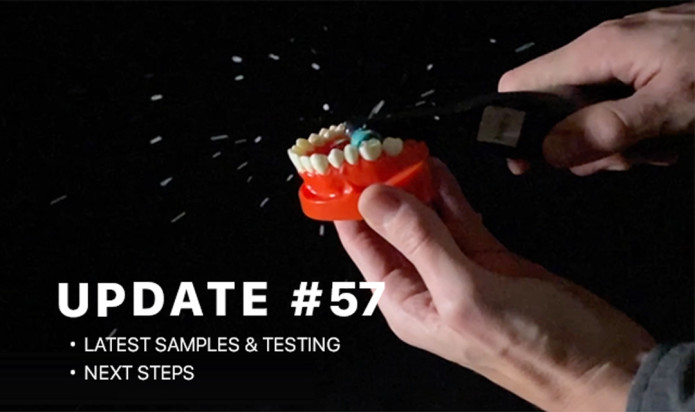 Hey Pre-order Community!
The last update showed videos of a few of you testing out the EVT brush samples and offering feedback. We thought it would be just a few weeks until this next update, but it ended up taking a few months to work through the minor but important improvements to the button design and the internal details. Another explanation for the long lead time is that while our manufacturing partner is best-in-class at what they do (they manufacture products for Dyson, Sony and Apple to give you an idea), this does come with challenges when we're looking to move fast and be scrappy. At our size and scale, we're at the mercy of giants, but we will get there!
We're happy to say that the latest samples received this week are much easier to turn on and off, and the brush head oscillation is stronger and steadier than ever.
 
The video below shows a comparison of the EVT sample on the left and the latest sample on the right. You can see in slow motion that the latest sample is oscillating the strongest. To be fair, the EVT sample performance was good, but this new performance is great.
The two videos below show the new sample oscillating in slow motion with toothpaste and water to give you an idea of the improved power of the mechanism. It's still gentle on gums but will clean better and perform better overall. It's what we expect from a powered toothbrush.
The enhanced performance is partially due to different lubricants in the gearbox and around the waterproof seals, which reduces built-up friction and allows everything to move smoothly.
These new samples are going through reliability and lifetime testing now, and the next step is to schedule the engineering build (500 units!) once those tests are complete.
Our next update should outline the build schedule and give us a clear picture of the overall mass production schedule. #Closerthanever #hanginthere !
Happy Holidays!
 ✌️ Team Be. Brush
---